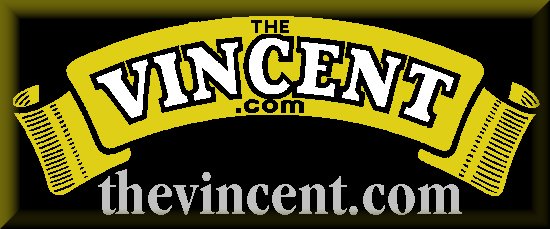 ---
Vincent Technical Sections: -Serial Numbers/Production- Photo Gallery of Models - Brakes - Engine Overhaul - Vincent Engines - Wheels/Fenders - Instruments - Transmission - Clutch - Magneto - Tank/Seat - Suspension - Tools - Norvin - Electrics- Carburetors - Misc - Links -Vincent Parts/Services Suppliers - Polishing/Cleaning - Shipping Vincents-Electric Starter - Paint/Transfers

---
Vincent Motorcycle Models
Note: Photos with a shaded box around them can be clicked to be enlarged.

---
Series "A" 1935-39
Meteor:
Comet (1938):
Comet Special (1937):
T.T.Replica:
Rapide (1937):
---
---
Series "B" 1946-49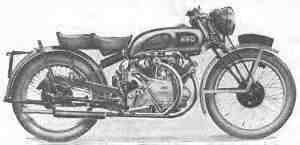 Artist's rendering of B Rapide
Meteor: no photo currently available
Rapide: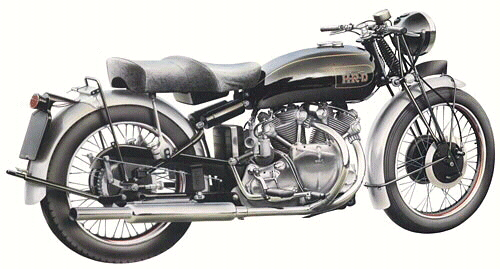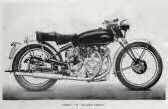 Black Shadow:
HRD'49 with Steib: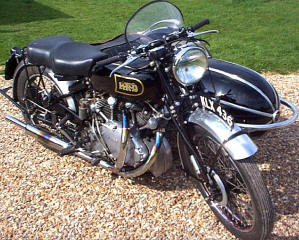 ---
Series "C" 1949 - 54
---
Comet Standard:
---
Comet Touring Model:
---

The Rapide is the "slowest" of their V-type twins at 110 mph (the Black Shadow is listed as being able to do 125 mph and the Black Lightning at 150 mph). The machine has a number of outstanding features such as the Girdraulic front fork and triangulated rear springing. Girdraulics provide exceptional lateral rigidity and freedom from front end twist under hard braking, unlike telescopic forks used on lesser contemporary machines.

Specifications:
Engine: 998cc, 45 bhp, compression ratio 6.7:1, Bore and Stroke 84mm x 90mm. Twin cylinder, OHV, air-cooled, enclosed push-rod operated valves. Cast iron cylinder liner shrunk into finned alumunim alloy cylinder jacket.
Lubrication: Dry sump, double acting rotary plunger pump.
Carburators: Twin Amal standard side-float type 276, zero degree float chamber
Ignition: Fibre pinion driven Lucas magneto, KVF 50 degree
Petrol capacity: 3 3/4 gallons, pressed steel tank, twin taps. Dropped rear of tank to catch water or dirt.
Oil Capacity: 6 pints. Oil tank forms upper frame member.
Brakes: Four internal expanding 7" dia.
Suspension: Hydraulically damped front and rear.
Saddle: Feridax Dunlopillo dual seat
Instruments: Smith's 3" chronometric speedo, 120 mph.
Maximum speed: 110-115 mph.

---
Rapide, Standard Model:
(Tim Watkins has mounted non-standard 5" speedo)
---
Rapide Touring Model:
Andy Hopkins' Touring Rapide ( Large files)
---
Black Shadow:
( high quality larger image)
'51 (365K - very large file of Shadow bars and related bits)
---
SERIES D: 1955 (F10AB/2/10588 to F10AB/2B/11134)
---
---
Open D Rapide: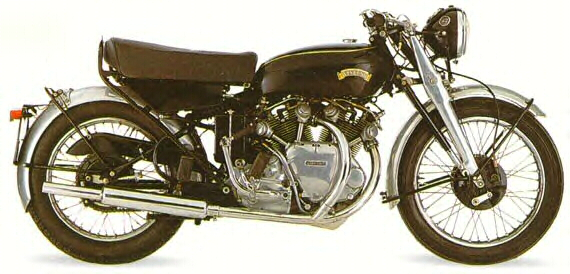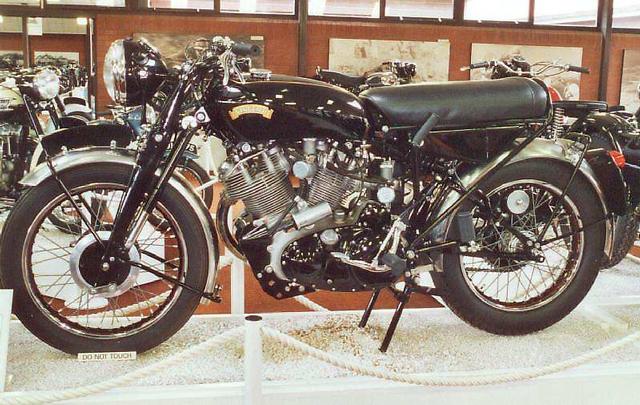 D Shadow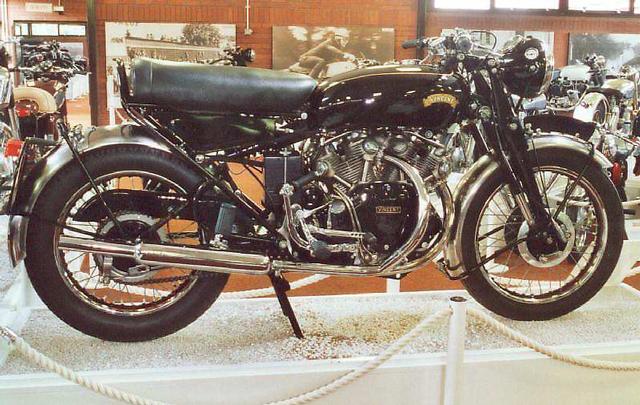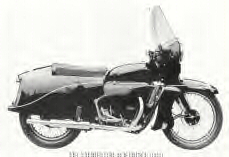 Black Prince
Black Knight
Peter Volker's D
D Rapide
Martin Warr's Black Prince
---

Racing Vincent Motorcycles
---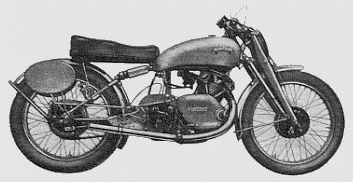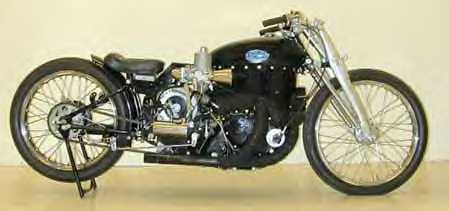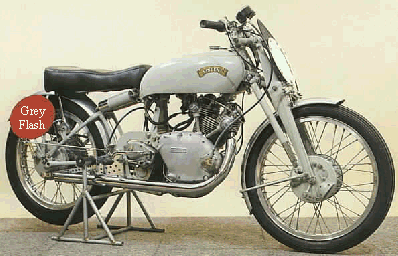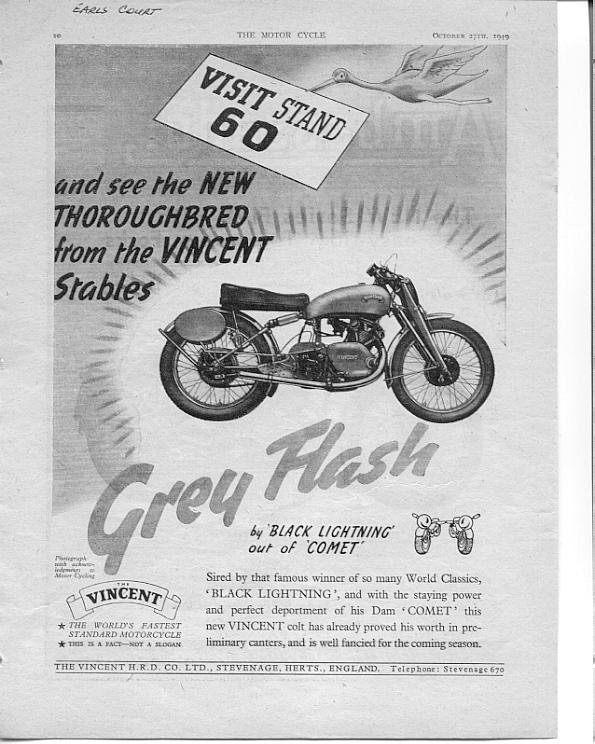 ---
Black Lightning:
1C/4439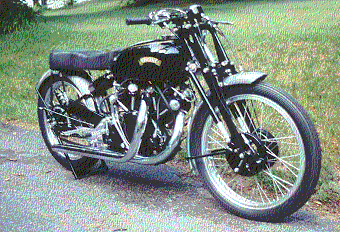 .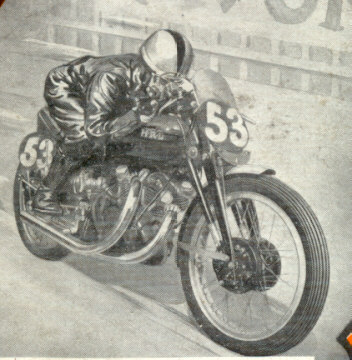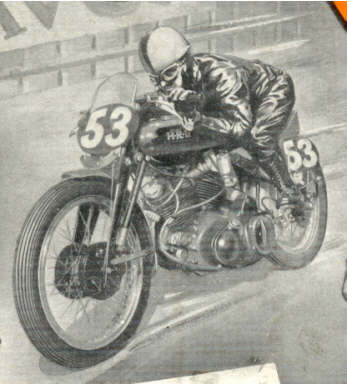 ---

Vincent Specials:
---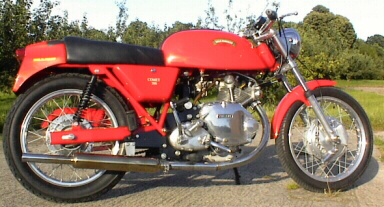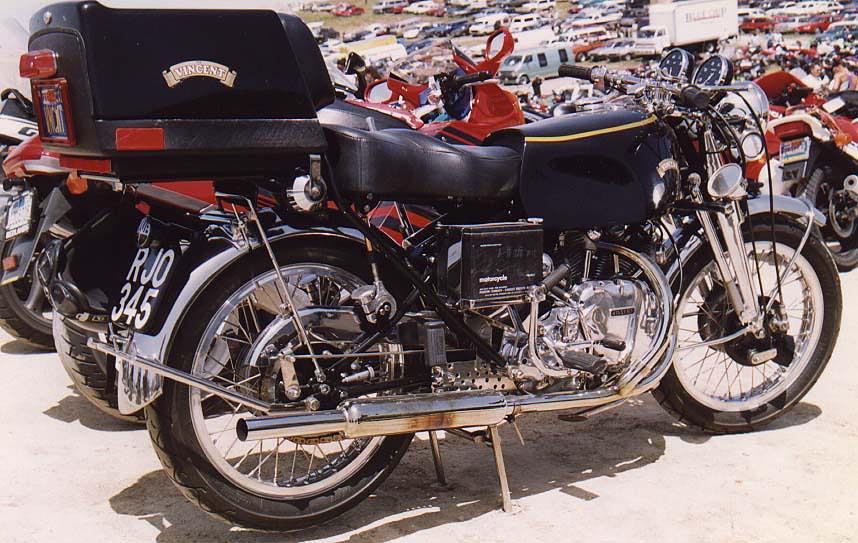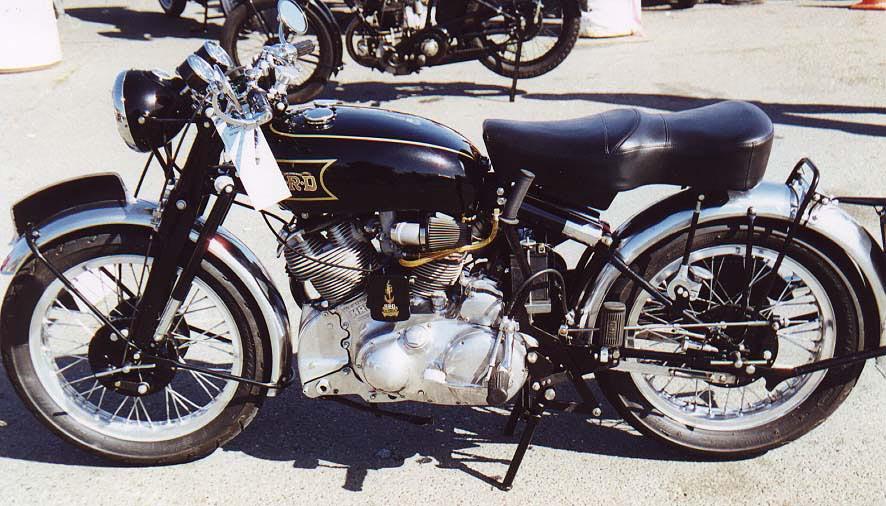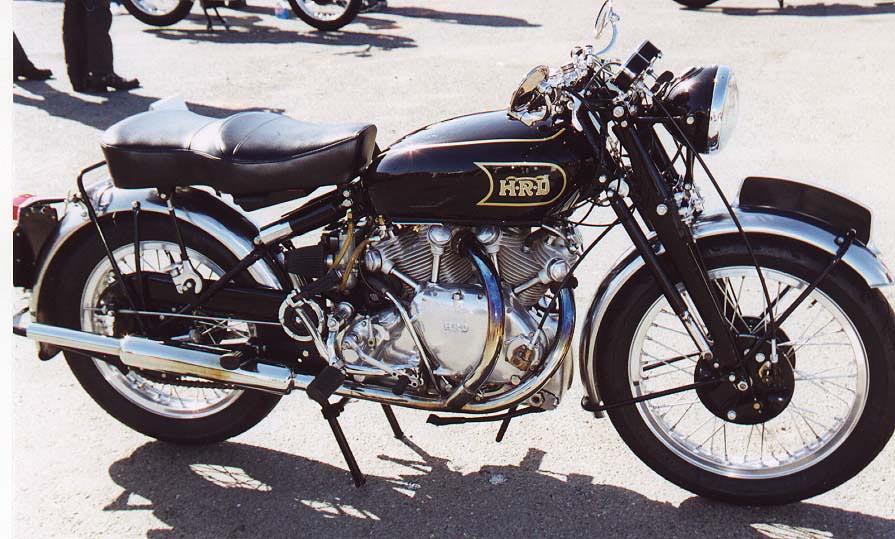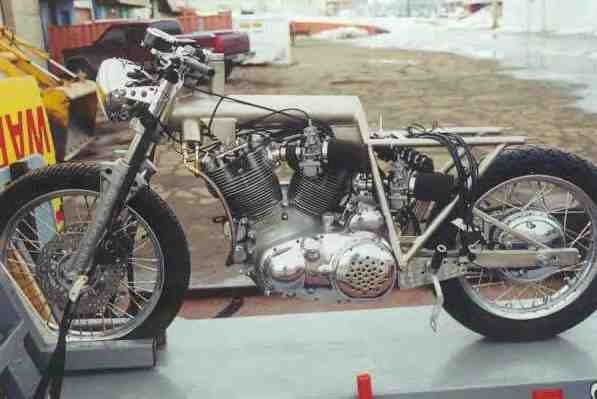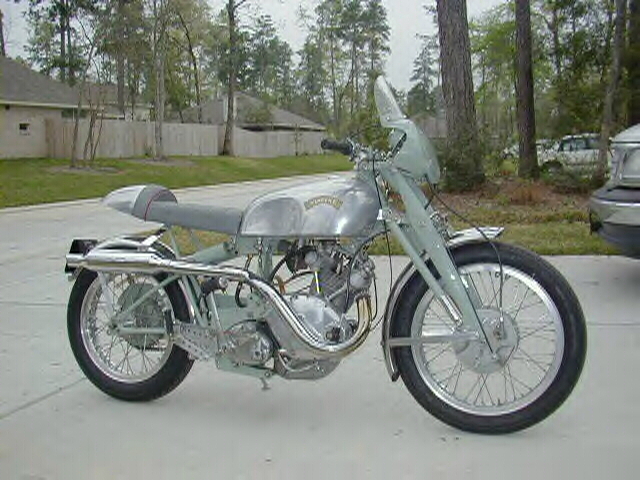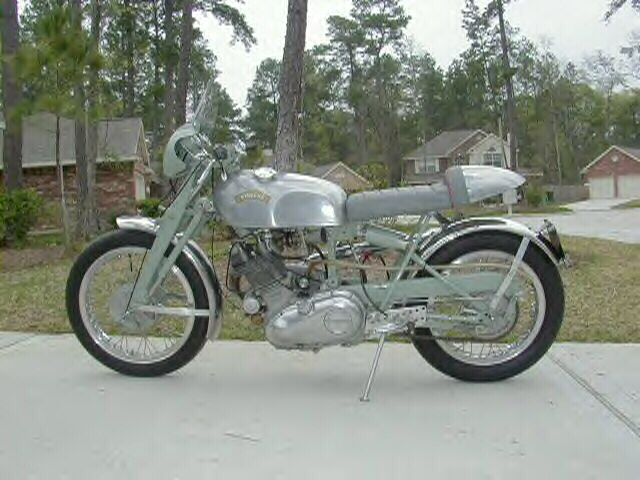 ---
Choppers and Customs: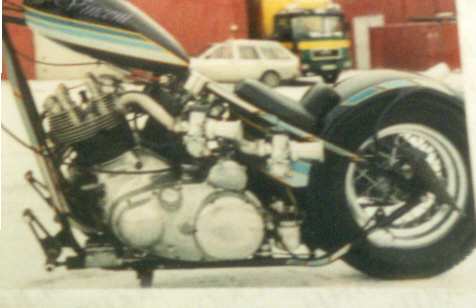 ---

Norvin: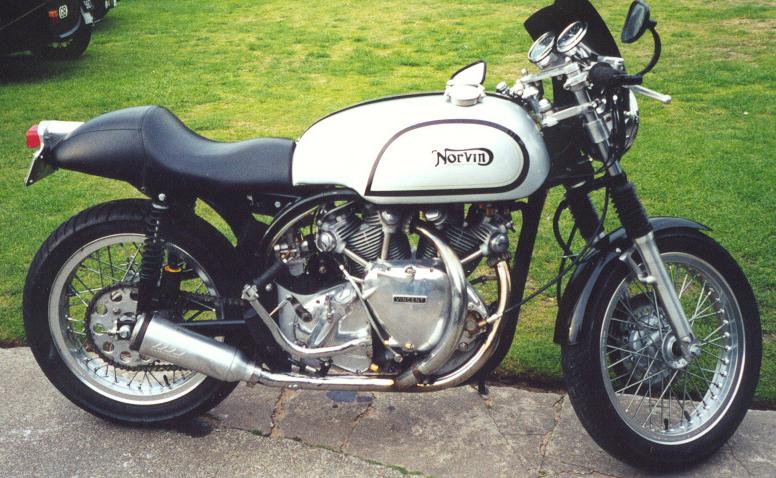 John Caraway's Norvin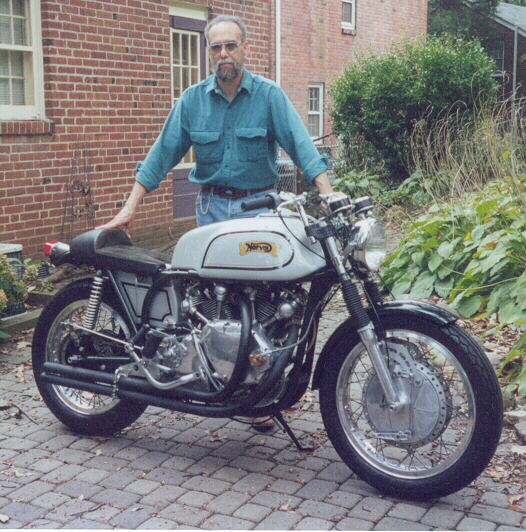 David Stein's Norvin

---
Picador Aircraft Drone engine.

---

It is the intent to list info on each model and a picture of each. If you have a good picture of any of these models please send it in. We will use it as a representative of the model. Please send only .jpg files, original photos, copies of photos, or copies of negatives. Please do not send .mime files... Thanks.
---
Return to Home Page of thevincent.com