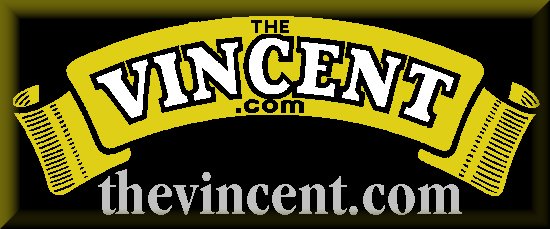 ---
Vincent Technical Sections: -Serial Numbers/Production- Photo Gallery of Models - Brakes - Engine Overhaul - Vincent Engines - Wheels/Fenders - Instruments - Transmission - Clutch - Magneto - Tank/Seat - Suspension - Tools - Norvin - Electrics- Carburetors - Misc - Links -Vincent Parts/Services Suppliers - Polishing/Cleaning - Shipping Vincents-Electric Starter - Paint/Transfers

---
Shipping Vincent Motorcycles
(Please send in your info/experiences !!)
---
---
Avoid R&L Carriers and Unishippers: I recently received $3,000 of items obviously damaged by these shippers. Although not motorcycle parts, the experience was very revealing about trucking companies in general and R&L and Unishippers in particular. A company in California sent me a heavy well-packed box of valuable items....original MSRP of $7,200, insured for current value of $3,000. Items were wrapped in heavy plastic, then packed/protected with soft bags of 2" thick spongy material, then protected on all four sides with 1 1/2" aluminized hard foam, then boxed in Heavy strong cardboard and placed on a standard wooden pallet. I volunteered to pick up the 210 lb box and pallet at the shipping companies loading dock 45 minutes away as my narrow historic neighborhood streets have many No Truck Turns signs. Arriving at the warehouse, the pallet and box were brought out by forklift. The bottom of the box had been completely torn off and even a large section of a pallet board was missing. Something had really hit the box and pallet Hard. Some of the contents were completely gone and what was there was obviously damaged. R&L's forklift driver told me that I would not win a claim as it was poorly packed. I was so stunned by all the damage and his statements that I signed something, took several photos of the damage and left to figure out what to do about the several thousand dollar loss. Huge mistake. Never, never sign anything unless Completely satisfied as now R&L refuses to acknowledge any liability nor pay even token compensation. When I arrived home, I found more serious damage inside the box that would never be evident until you had unpacked all the contents. I guess the lessons are... never do any favors for trucking companies by picking up a from a warehouse as there will be no truck driver to confront with a damage claim, completely unpack your shipment before signing anything, photograph all damage and immediately confront the manager or driver with a claim. Do Not accept the statements of other company delivery personnel as they may be just trying to avoid any responsibility. Lastly.... use FEDEX or UPS if possible as I have friends that have had shipping issues and UPS and FEDEX have always been ready to personally inspect any damage even after signing for receipt of goods....and have been willing to make good on any valid damage claim. Federal Allied is another reputable shipping company that I have employed over the last 20+ years that believes in quickly and fairly resolving any issues. Further details will be added until the damage claim with R&L Carriers and Unishippers is resolved. James 9/9/2012

---
Inquired about shipping a

Vincent twin engin

e

a couple of months ago. About $540 plus cost of crate. West coast to Manchester air freight, not a lot less by sea. The complication regarding stating it is for repair and return is that HMRC might check to see that it goes back. The VAT is chargeable @ 20% of value Inc. shipping. The price you have set on the valuation is between you and the sender, but be sensible!..... do you have a mate/company that is vat registered to absorb the vat? Neil 11/29/2011

---
Shipping back and forth:

I ship Goldstar flywheels back and forth across the pond pretty regularly. I find the US Postal Service the most economical, and have never lost one. (touching wood) I always get a quote from UPS also, is usually about twice the USPS amount. If they will be sent back to the US, always put on customs form "for repair and return", that way your party won't have to pay a duty. Stuart 11/28/2011

---
http://www.motorcycleexpress.com/

Jacqualine Bickerstaff reports positive experience shipping from Toronto to Gatwick in the UK.

---
I have personal experience as my bike was shipped from Sydney to London when I bought it, I made all the arrangements myself remote through Brian Moxham at CH Robinson,

C H Robinson (UK) Ltd
Egham, Surrey
Tel : (0) 1784 228550
Fax : (0) 1784 228555

They are UK based but operate through a network of contacts worldwide - they arranged to have the bike collected from an address in Sydney and crated and freighted by ship. Stuart Metcalf 12/14/09

---
I just shipped a Comet from Californina to WV with www.haulbikes.com after a couple not-so-fun experiences with discount shippers. Steve Allen, a Ducati man at Bevelheaven, has arranged some sort of "favorable terms" contract with them...so my recommendation is to call to check rates and arrange shipping through him. Phone: (925) 798-2385 or E-mail: http://www.bevelheaven.com/ Since motorcycle shipping is HB's specialty, your bike is never transported with any other type of freight. Your bike goes on its own custom form with soft ties and 6 tie-downs....no crating is necessary. My last "discount shipper" brought my Vincent shoved against a couple mattresses and a refrigerator in a ratty high cube van. HB also can handle custom trips/ tours and shipping from auction houses. Their rates depend on whether picked up or delivered to a business or residence. Mine was billed from a business to a personal residence, although I like to meet them to pick up a bike at either a big truck stop or local Wal-Mart parking lot. HB uses 53' tractor trailers....not handy in a small touristy town with many No Truck Turns signs. My no discount price was $638 coast to coast. Jim 8/3/09

Update 12/14/09: Although Haul-Bikes is an excellent shipper, my latest experiences have not been so pleasant. 4 times they delayed pick-up.. Now scheduled for almost 6 weeks later than originally promised when I paid their dues. Seems once a contractor gets your credit card number, they forget about you. Their work is done. I sense an opportunity here for someone with a large truck and trailer that would carry say...10 bikes to haul Vincents and other high dollar Classics around the USA for $1000 or so and pick up and deliver on-time with regular phone calls to keep customers up to date where they are in the process.. Jim 12/14/09 After 6 delays in pickup date....Haul Bikes just wrote: " As far as the delays, it states clearly in our contract on page 2 that we are not responsible and that the time frames we give are estimates." In other words, pay no attention to their description of when the bike will be picked up and delivered. My take: Not good enough.

---
Freight Center: A person wrote a harsh review of Freight Center which I posted and the company wrote back 2 letters of policies and explanations. Make your own judgement on that company.
---
I just got my two Vincent engines shipped by Berkley and they did a great job. Dennis Klainberg handled it and it came from Mike White's house near Toranto Canada to Texas. Mike wanted it shipped one day after he had them crated and ready. After we got shipping arranged, Mike said they made contact with him, and they were there when he wanted them, had them loaded up and gone exactly when he wanted it. They shipped them to NYC for customs, then to me where I picked them up at the Dallas Fort Worth Airport. No problems, no damage, easy to deal with, very reasonable prices (cheaper than I could have driven there!). The crates looked like they didn't have a mark on them. No damage to anything, and a great, quick job. Charlie 7/24/06
---

UK to USA: I had the Comet shipped from north of London to New York City last month. The shipper arranged pick-up at the residence, crating, customs and all paperwork and I picked it up at the Port of Elizabeth in New Jersey. Total cost was $2170 plus an additional $50 for lift loading at the depot. I was hoping to spend less, but would have had to be more involved with US Customs, DEP, NHTSA, and the various other Homeland Security issues regarding importation.

Berkley Carrier
800-254-4422
Denis
www.shipmybike.com

He's a fast talking New Yorker, and tough to pin down, but he did take care of everything. Which is what I was paying for. It took 5 weeks from start to pick-up.
John 5/17/05
---

UK to USA: If the motorcycle was 499cc or less, there is no customs duty. I shipped my Comet from UK to USA last year by air myself for 700 pounds sterling or about $1300 US. It took 10 minutes in Customs in Denver - filled in a form, showed some paper work and then went to the airline and picked it up. Peter 5/17/05
---
Importing to the US: I've imported a couple of bikes, one from Australia and another from the UK. I did all the paper work, customs, etc. myself when they arrived and found it no problem. The biggest hurdle is the EPA junk but that only applies if the bike was built after those regulations went into effect (I think 1975).

My experience has been that arranging with a shipper at the departure end is less expensive than working with someone in the US who in turn must work with someone in the departure country. Everyone has to make a dime and in that case and the price increases. Larry Carlson 5/17/05
---
I am having a Comet shipped from London area to NYC as we speak. It is a complete machine, and the shipping broker is arranging all of the pick-up, crating, and documents for it to clear the UK and arrive, ready to pick up at the Port of Entry (in this case, Elizabeth, NJ).

Berklay Cargo Services
1-800-254 4422
www.Berklay.com

This is not the cheap way, if fact it is bloody expensive. But between the customs, and MOT in the UK and all of the other paperwork, it probably is a wash with doing it myself. John 3/12/05
---

Shipping a Petrol tank or other item to Australia: You can not use wood unless it's of the type approved by the Australian customs, which has been chemically treated to prevent any types of insects parasites plant life etc from hitching a ride. Even if you find a sheet of this stuff, then cut it up to size to build a box, they wont accept it because the freshly cut ends have not been chemically treated. Your options are then to have the whole box fumigated and quarantined. I would strongly recommend an oversize plastic or Rubbermaid/Tupperware 'tote' container of some type. I know this because I went through most of these steps when shipping my Norton/Norvin chassis off to Aussie. No wood or wood product materials are accepted, unless it bears an manufacturers stamps saying it meets or exceeds the Aussie shipping requirements. In the end the plastic totes are about as much as building a proper crate from scratch. Marc 2/16/04

---
http://www.popupcrate.com/freight_pop-up_crate_standard.htm
10/24/03
---
Federal Allied: 800-747-4100 ask for Jackie x210. Federal ships all around the USA and now into Canada. Vincent Twin, uncrated, door-to-door, private parties at each end, about $700 for 2800 miles. Bike is tied down onto a special pallet. Good personalized tracking system with 24 hour advance warning of delivery. In Canada, you may want to get another estimate from a second local associated Federal Allied agent as I have been quoted different rates even though same parent company. jim 11/17/02.
---
Interesting option to building a shipping crate. http://www.popupcrate.com Bruce 11/17/02
---
forwardair.com is the website for Forward Air. They basically are a biker friendly trucking company that will ship a crated Vincent and parts USA coast-to-coast in less than a week for approximately $100 per 100 pounds (about $500 for crated Vincent). They have 75 terminals in the US and Canada near major airports with good US coverage except for Montana, Nebraska, the Dakotas, and Idaho. Local Harley dealers seem a good source of suitable crates. You can start with a basic large crate from any bike dealer and reinforce it with plywood sides and top. If you are sending just an engine or a large crate of parts, it is a good idea to start with a strong shipping pallet and build your crate attached to the top...fork-lift friendly and a strong non-twisting base. Also the pallet base is a standard shipping size. jim 4/16/02 ( updated 8/2009)
---
MotoTrans: is a door-to-door shipper of uncrated motorcycles. Rates are posted online at www.mototrans.com . Boston to Florida looks like about $400. jim 6/23/02

---
December of 2001 I had my Norvin with a spare engine and various other parts sent from Manchester, England to San Francisco. Initially I had called several companies from California trying to arrange shipping, but it was futile. For example,
Delta would have handled the job for a few hundred dollars, but their nearest agent is in London--not Manchester--even though they have "partner" airlines and daily passenger service into Manchester. Likewise, Emery (theoretically) would have flown into Sacramento for a few hundred dollars--but could not be located at the Manchester end at all by Glyn .

Glyn finally used a freight forwarder, EGL (Eagle Global Logistics), from Manchester via London Heathrow directly to SFO, arriving on a Virgin cargo carrier. The bike was on a pallet with a separate crate containing an engine and other bits for a combined weight of some 355Kg. Glyn prepaid £537 and I had to pay an additional $35(?), which was 1/2 of the $70(?) due because they had lost the waybill. For comparison sake, Air Transat, which I had a really cheap rate from sending the bike from Vancouver, BC to Manchester two years ago, wanted US$1100 back to Vancouver and an additional US$800 to San Francisco.

My research established that most freight carriers have NO interest in non-commercial traffic--and as noted above, can be very
elusive even if you 'qualify' for their services (I have a company, and the bike was picked up at a commercial site). After my
experience, I suggest going through a freight forwarder. In the future I know I shall. John 2/19/02

---
Hi there, I just noticed your web page and thought I should update and give you new information on the intra-Canada and Canada to USA/USA to Canada uncrated shipping service. We at Allied Mont Bruno/Lakeshore are the company that has this specialized service. We are affiliated to Allied, as is Federal, except that they service within the USA only. Heidi Stewart is our Canadian Operations manager. We are the official carrier of the HOG group, among many others. Dave Urman. Local Phone: 514-336-1212 and toll free Phone: 877-336-1212. E-mail: www.brunolake.com/moto.htm 8/23/01

---

Crating: When I shipped my bike to England for the International, I used Air Canada out of Toronto. They shipped it in and out of Heathrow. They strapped they bike onto a pallet going over to England. Coming back, they put it in a small container just large enough for the bike. I found their service excellent. Maybe Air Canada can arrange flying in and out of Heathrow also for you Limey guys in 2003! Their charge was about $550 American. Tom 8/23/01

---
It has been my experience in shipping from the US to the UK and back that a "crate" has different definitions. The shipping companies I have dealt with accept a pallet, as it can be easily lifted by a fork truck. In the US I found Harley dealers willingly give you pallets, while in the UK they told me, "Oh, they're quite difficult to build matey, so we'll have to sell it to you." The Harley dealers also have, literally, hundreds of tie-downs on hand they have received from the factory. After putting the bike on a pallet it is not a bad idea to wrap it in clear plastic, cheap and effective. Carl 8/22/01
---
---
None of the companies I have spoken with would consider that a "crate". Some (not all) will ship on a pallet as you described, but it is considerably more expensive (and risky) owing to the much-increased possibility of damage. When you are told (as I have been more than once) that the crate must enclose the motorcycle and that it not be visible, a pallet and plastic wrap is NOT satisfactory. I can tell you that my bike would NOT have been allowed to leave the UK as you described. Furthermore, when I shipped my bike to Oregon and back for the National this year I was explicitly told that it had to be crated and the crate had to be either metal or plywood covered, top, bottom, and sides. Along with that, it cost me a total of $440 round trip - a much better price than the $700 or so to ship it uncrated ("palletized") one way. David 8/22/01
---
Try Geologisitics they are accustomed to "particular" shipping requirements. I manage the logisitcs of touring productions which add up to about a quantity 43- 53' tractor trailers. They've moved time sensitive, delicate goods for our company numerous times from the UK, Europe, Asia, to and from the U.S and Canada. They also provide brokerage services and they can deal with crating should it be required. You can ship by plane, or boat and you can trust your Vincent to them. www.geologistics.com Marc 8/22/01

---
I have some experience in international Vincent shipping: twice round trip to the UK from the US (1983, 1999), twice one way from the UK to the US (1983, 2000). Most recent RT was for the International in the IOM. It has been my experience that it WILL be expensive, but it is quite possible to do what you wish. I don't know about other airlines, but Lufthansa will ship uncrated bikes to and from London to the US East Coast. I think they probably have a flight from LA to London over the
Pole that would do for you. You can check their schedule and see. There are aslo several US firms that advertise uncrated international shipping, and you can check www.the vincent.com (go to shipping) for some of them.

What you will also need is a customs broker at each end to handle all the details. It can be done without one, but (especially for foreigner) it would be easier and a wise investment to hire one. Get your freight forwarder in the UK to recommend one in both your ports of entry and departure. I can provide a recommendation for a shipper at Heathrow whom I used with very satisfactory results to send my Norvin from London to Maryland. It is better to use a crate, but that would be very difficult on the return unless you shipped your crqate to your port of exit and then paid to have it stored. Your Customs Broker can figure
it out and tell you the costs and options. You can get a crate in the UK for very little from your local Suzuki shop (my last one cost two pints) and then discard it on your arrival by paying for disposal (about $20).

My experience with Canadian imports is old and may be outdated - but the authorities required a substantial refundable cash bond to bring a bike in by ship or air. They wanted to guarantee that it would not be sold. When I left the country I applied to get the money back, and did. To my knowledge the US requires no such bond, but I think does require EPA and DOT certifications even though you will be exempt from them.

For the international round trip from Dulles (Virginia) to London and then by truck to Manchester it cost me about $1800 round trip. But the bike had to be crated to go from London to Manchester and back. It did not need to be crated for the trip to London. David 8/22/01
---
Hi Jim:

We're www.motoship.com and www.motorcycleshipping.com, specializing in international shipments of motorcycles ,
since 1965. We ship a Vincent here and there every so often; we move a few this summer to the Isle of Mann for some folks,
and we've shipped for the Guggenheim Museum's "Art of the Motorcycle" exhibit. Hoping we can help your constituents, esp. to and from Europe, Hawaii, Alaska, Puerto Rico, etc.

At your service,
Dennis Berklay
www.shipmybike.com
www.motoship.com 8/13/01
---
http://www.micapeak.com/~marcl/pages/shipbike.html Good info on experiences
---
For International Shipping: AG Logistics Joel Kebuti is John Ulver's contact and can be reached via email at: joel@aglogistics.ca

---
Motorcycle Express
International Uncrated Airfreight to Europe, Canada, Australia and New Zealand.
1-800-245-8726
516-682-9220
E-Mail: info@motorcycleexpress.com
---
Firstly there is a Motorcycle Yellow Pages at www.micapeak.com that mentions some shipping outfits. I have shipped bikes using a company called Federal Allied with great success. This within the US, uncrated. Shipping is broken into two prices, one 750cc and over, one under that. A Spokane to Atlanta movement of my Guzzi 1100Sport was somewhere in the range of $500. Very reasonable, I thought, especially as it included $5000. in insurance. I know for a fact that they move 10-15K bikes during the weeks of bikeweek in Daytona, most of these owned by prickly HD types, so they are used to the complaints and therefore very careful. The specifics are as follows: Federal/Allied 800- 747- 4100 (ask for Jackie x210 - updated contact 11/17/02) Glenn 02/02/01

---
Hi Jim:

Noticed your desire to do a shipping page for bikes. I have shipped bikes four times: twice round trip from US to UK, twice one way from the UK to US. Never within the US. The round trips were in 1983 and 1999, both by air. The first was to carry the bike as excess baggage out of Vancouver BC to Manchester. It worked very well, but the airline that did it (CPAir) is now out of business. The second was by Lufthansa out of Dulles to London and then by truck in bond to Manchester. In neither case was there a problem. However, it was very expensive in 1999 ($1800US) partly because I used a customs broker at each end. It can be done without a broker's help, but I did not and do not feel comfortable without one. The paper work is pretty complicated. The bottom line is that you can use any airline that will carry the bike, but the freight forwarder knows all kinds of information that will make things go more smoothly. There are lots of requirements, some of them not so obvious - for instance, a motorcycle, even with the gas tank drained and the battery disconnected, is a hazardous shipment.

The two bikes shipped one-way were both imported to the US, so they were more complicated than the round trip ones, because they had to satisfy the EPA/DOT requirements plus customs duties etc.

Within the US should be easier but not necessarily less expensive. You may still have crating problems. A Suzuki (large displacement) steel-frame crate fits a Vincent perfectly, and can be obtained for practically nothing from your local m/c dealer who will be happy to get get rid of it. David 02/01/01
---

Return to: thevincent.com