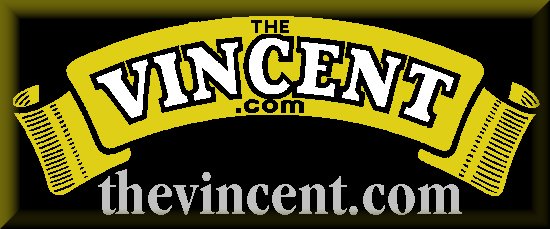 ---
Vincent Technical Sections: -Serial Numbers/Production- Photo Gallery of Models - Brakes - Engine Overhaul - Vincent Engines - Wheels/Fenders - Instruments - Transmission - Clutch - Magneto - Tank/Seat - Suspension - Tools - Norvin - Electrics- Carburetors - Misc - Links -Vincent Parts/Services Suppliers - Polishing/Cleaning - Shipping Vincents-Electric Starter - Paint/Transfers

---
VINCENT MOTORCYCLE: SUPPLIERS OF PARTS AND SERVICES
---
thevincent.com provides the following information for You to check out. We do not endorse nor warranty in any way nor recommend their goods or services. Now then...who did we miss ? Corrections ?
---
TEST PAGE 12/23/2017
deleted id file

Coventry Spares Ltd.
John Healey
Coventry Spares Ltd
15 Abbey Lane
Middleboro, MA
USA 02346
Phone: 508-946-1144, Out of state 800-451-5113 Extensive stock of Vincent spares, exceptionally quick US delivery.

New Webpage 3/15/14: http://www.thevincentparts.com/ Facebook: www.facebook.com/vinpartsinternational



Doug Wood:

Professional rebuild services for Lucas, Miller and BTH magnetos and generators by an Electrical Engineer with over 35 years of experience. Can also provide most parts for the afore mentioned mags and generators. Dealer for Podtronics 6 and 12 volt regulators.
Worldwide shipping although be aware the Post Office will not insure to some countries. Phone: 610 369 7855 or E-mail: dougwood at netzero dot net Located in Eastern USA

Patrick Godet Motorcycles: Complete service for Vincents: Maintenance to complete restoration, crankcase repair, head repair, lead-free gasoline valve seat conversion, full range of selected spare parts. Authentic Egli-Vincent complete machines only. Built on order. Made in England genuine re-edition crankcases, not fake, made with permission and in conjunction with the Vincent HRD CO.
E-mail: godet-motorcycles@wanadoo.fr
Website: www.godet-motorcycles.com
Address: Godet Motorcycles, 28 Route d'Eslettes, 76770 Malaunay, France
Phone: (33+) (0) 235759656 Fax: (33+) (0) 235759507

Conway Motors Ltd: Conway Motors
Unit 4 Diamond Works
Maidstone Road
Nettlestead
Kent
ME18 5HP
01622872715
www.conway-motors.co.uk On premise callers welcome. E-mail : annie@conway-motors.co.uk or www.conway-motors.co.uk
Vincents bought and sold, extensive range of Series "A" parts, full work shop facilities for all models of Vincent.

VOC Spares Co. Ltd.


VOC Spares Co Ltd.
Unit 3a Robinson Way
Telford Way Ind. Est
Kettering, Northants
NN16 8PT

email: orders@vincentspares.co.uk ( revised 12/22/2011)
website: www.vincentspares.co.uk

Maughan & Sons (Precision Engineers)
Fen House,
Great Hale Fen,
Sleaford,
Lincs. NG34 9LS.
Tel and fax: 01529 461717 (new address 1/21/04)
Extensive list of Vincent spares for retail sale.

Walridge Motors, Canada. Phone: 519-641-2770 or E-mail: sales@walridge.com . Bulk cable in 5 different sizes and an assortment of nipples, cable casings, ferrules and adjusters. In addition to the cable making supplies we sell literature, taps and dies (either individually or in sets), British fasteners, wheel rims (British or Italian chrome, with centres painted if required), flanged and non-flanged alloy and stainless steel, spoke (stainless, polished/unpolished or galvanized), tires (Dunlop, Avon, etc), seats ( North American agents for RK Leightons) and I can also special order a good range of Vincent parts – give us some part numbers and we will be pleased to quote. Mike Partridge. (updated 10/17/07)

Sam Manganaro: Restores and repairs Vincent motorcycles. Service, cosmetic work, and fine tuning, as well as a full-up rebuild. Reliable, precise and Vincent savvy; and as a rider, makes sure your Vincent is ready and safe for the road. Sam can arrange for pick up or delivery and has recently moved to Southern Colorado. Has built award winning Vincents for Pebble Beach Concours. Phone: 540-514-1013 or E-mail: hrd998@verizon.net Sam's new website is: vincentworks.com (Update 8/2011) Sam now provides sales of Michael Breeding's jewelry like Vincent parts...including footrests, Brampton parts, K/S levers, choke levers, etc.


Michael Breeding: (see above)


Neal Videan: nvidean@optusnet.com.au Neal makes & sells excellent clutch kits that can be run wet or dry. He also sells upgraded replacements for PD3/2 - shock absorber cam, PD6 - shock absorber spring, PD27 - auxillary spring, and PD9 - chain tensioner blade. I have installed 2 of his kits with seals and clutch rods provided. Easy install, reliable, and light action. I run them wet to reduce grabbiness. Good set of instructions and responsive advice when needed.
Submitted by Marc 4/24/09

Cyril Malem is feeling better and is back making Egli-ty[pe frames. They include the swinging arm complete with timkin taper roller bearings. Phone: (44+) 1202 532532 or cellphone (44+) 07850 554041. E-mail: cmalem@aol.com. (New listing 4/14/08)

Steve Hamel provides high quality technical services for Vincents. Precision machining and welding. Difficult or challenging a specialty.
Engine rebuilds and upgrades. Cylinder boring/sleeving. Forged pistons any size/comp.
Cyl heads, broken fins, special valve seals, seats, guides. Precision crank rebuilds.
Crankcase repairs, blowups, mis-matched, chain damage, main bearng sleeves.
Modern Comet and Twin oil filters, US supplier for Neal Videan's Oil Leak Eliminator kits.
Contact info:
gearheads@comcast.net
586 Sherburne Av, St Paul, MN 55103
651-290-0889 shop


Two sided

2 leading shoe brake conversion

kits:


Vincent Speet
Transportweg 70
2421LS
NIEUWKOOP
Netherlands
Phone: (31+) 6 2704 2246
or E-mail:



Mike Hawthorrne. Vincent engine rebuilding, vapour blasting, powder coating, thread repairs, welding and maching. Relines vincent brakes with a compound that is better than Ferodo am4 and can machine them to fit drums. Phone: 01132282781 Leeds, England

(new listing 6/8/11)

thenorvincentre.com New Vincent crankcases, new cylinder heads, plus many other parts new and used for Vincents, Eglis , Nortons. Phone: 01708-470 526 Essex UK

Colin Taylor has moved to Italy. FT13 rear stands, Norvin frames with and extra 38mm in the cradle to allow easier fitting of the twin motor, HB1 handlebars in stainless and black, Front spring cases with anti skuff liner bush, Twin magneto cowls (polished or black); parts and other services (such as Girdraulic blade aligning and made-to-measure exhaust systems) as before. Note: in the US Coventry Spares carry all the parts I "do". Now doing T5/3 (polished) and G1 (polished......either 1 234 or 1 2345) email is now colinegl1taylor@gmail.com and the 'phone number has changed to 0039 3319715564. ( revised 11/1/2011)


Daniels Design and Manufacture, Ph: (+44) 121 789 8900 (Brampton and Girdraulic fork repairs). Ray Daniels, 144 Station Road, Stechford, Birmingham, B33 8BT, UK.

Classic Restorations Holland: Prop: Harry Vermeulen, Zesstedenweg 217-A, 1613 Je Grootebroek, Holland. Telephone/Fax: (31) 2285 16697

Vincent Twin Crankcases in Electron ready middle of January, 2003. Weight saving and the greatly improved heat dissipation.
E-mail: colinegl1@aol.com or Phone: (44+)[0]7980090533 England

Dave Hills: England (center stands, Vincent watches, Feridax & Conways badges) phone: (44+) 01276 508995 – probably worthwhile noting that he is often in the USA and able to transport his stands cheaply.

Derek Sayer
13 St. Audrey Ave.
Bexley Heath
Kent DA7 5DA
Phone: 020 8304 1527
(Vincent Rebuilder & HRD Classic Panniers) England

Stainless Engineering Company, Andy Molnar, Unit 9, Roman Way, Ribbleton, Preston, Lancs, PR2 5BB, England ph: (44) 1772 700700, fax (44) 1772 705075 email: sales@manx.co.uk
(New Vincent Crankcases) England

Harry Cowley: (49) 521 206689, email: vinut@t-online.de (new Vincent crankcases)
Germany

DRAT Engine Enterprises, Bob Culver, Phone: (44) 146 267 3705 England (new crankcases & covers)

Francois Grosset, Le Pont Ricoul, 35720 St Pierre de Plesguen, France
fax: (33) 299 73 94 17 email: pontricoul@aol.com (electric kick starter)

Rofor Precision Motorcycle Engineering, contact: Roger Forythe, (44) 1908 375225 (wk), (44) 1908 372554 (eve), (44) 1908 648560 (fax) (service/repairs/restoration/painting/plating)

David Woods, La Casita, Church Lane, Eastergate, Chichester, West Sussex, PO20 6UZ,
Phone: : (44+) 1243 542521 or E-mail: http://www.chronometricspeedos.co.uk/
(Chronometric speedo and tach repair)

Stuart Tower, 117 Church Lane, Chessington, Surrey KT9 2DP
ph: (44) 20 8397 6599 email: stuart.towner@cableinet.co.uk
(mag & dynamo repair/recondition ATD's/Overlander s/s exhaust)

HT Engineering Services, 350 Leatherhead Road, Chessington, Surrey KT0 2NN England
Ph: (44) 1372 740306 after 3pm (44) 1372 373705 (s/s fasteners/spares/machining/welding/reboring)

Barry Waters, (44) 1254 603985 England (Vincent ATD's)

Deespray, Brian Dees, England Ph:(44) 1634 843755 7days, 8am-10pm
(gold leaf lining, tanks repaired/tested/sealed, al & s/s welding, sheet metal & D fibreglass repairs/painting)

G. Bailey, 127 Wrose Road, Shipley, West Yorks, BD18 1NL
Ph: (44) 1274 584095 (seat and tank covers)

Vincent Technical Services, Dave Malloy, PO Box 855, Colfax, Calif, 95713, USA
Ph: (1) 530 346 7266 (distributor for Thornton suspension system)

Matthews Motorcycles, Len Matthews, 15 knox Gardens, Clacton-on-sea, England CO15 3SJ
Ph: (44) 1255 427663 (Vincent repairs) E-mail: vinman@shadow998.freeserve.co.uk.

Gary Robinson, Hi-Profile, Cranmore Ave., Cranmore, Isle of Wight PO41 OXS
Ph: (44) 1983 760765 (reclaims camshafts and followers)

Dave Lindsley, 196 Pilsworth Road, Heywood, Lancs, England OL10 3DY
Ph: (44) 1706 365838 fax: (44) 1706 627500 (overhaul dynamos & gen, a/r conversion, JG regulators, ATD repair) Reportedly will Not ship to US or Canada.

Bob Dunn.... has moved premises and his new telephone number is (44+) (0)161 797 5535
(Vincent engine repair, overhauls, service for heads/flywheels/crankcases/gearbox)

Vintage Brake, 15069 Lupine Lane, Sonora, CA 95370, Ph: 209-533-4346, email: vinbrake@goldrush.com (Ferodo brake linings)


Smiths tach and speedo repair: Mark Bowman. Phone is 513-367-6402 Cincinnati. Ohio, USA


David Woods, La Casita, Church Lane, Eastergate, Chichester, West Sussex, PO20 6UZ,
Phone: : (44+) 1243 542521 or E-mail: http://www.chronometricspeedos.co.uk/
(Chronometric speedo and tach repair)

Nisonger Instruments, 570 Mamaroneck, NY, USA 10543, email: nisonger.com , ph: 914-381-1952
(chronometric speedo/tach repair) (recommend you give Specific instructions... for example - do not replace original faceplate with a silkscreened one and do not reset mileage.. jb) I have received a number of complaints about their poor service and delays. Although I cannot verify problems, I'd try David Woods or Scott Thomas first.


Scott Thomas , Chicago , USA area. Smiths Tach Speedo Repair


http://www.triumphrestorations.net/home.html

Precision Instruments, 445 Beaver Ruin Road, Lilburn, GA. 30047. Ph: 1-800-456-6267. (rebuilds Chronometrics)

Dave Molloy, P.O. Box 785, Chicago Park, CA 95712, Phone: 530-273-3726 or E-mail: molloy@inreach.com (distributor for Thornton Suspension systems) (updated 1/2/04)

Two interesting sources of Whitworth tools and information on the web.
http://www.britishtool.com/index.html
http://www.worldmall.net/machine_tool_parts/link2.html

Phil Pilgrim and Chris Chant: ujcycles@burwood.starway.net.au , Union Jack Motorcycles Pty Ltd, (Vincent prop-stand conversion). USA sales: Sterling Cycle works, 586 Sherburne Ave, St. Paul, MN 55103 E-mail: gearheads@uswest.net

Anderson Restoration Services. Complete restoration and servicing. Many parts held in stock. Specialty parts include: Mag cowl t-handle & lipped lock nut sets, OP40 jet caps in bronze, extensive helicoil servce BSW, BSF, BSP, BA, BSCy, 20TPI, G23 nuts in high tensil stainless w/seal. FT239 damper rubber and more. Specialty services: RFM repair in heavy accurate fixture, exhaust port thread reclamation with aluminum bronze inserts threaded ID &OD. Ph.(650) 994-4706. Email: rapide49@hotmail.com USA (updated 2/19/06)

Alpha Bearings Ltd., P.O. Box 13, Dudley, West Midlands, DY2 0QA, England. Voice: +44 (0) 1384 255151
Fax: +44 (0) 1384 457509

http://www.worldmall.net/machine_tool_parts/index.html (ss nuts bolts, taps, dies and helicoils and more.)

Halmut Weidelich: Multiplate design for Vincent Twin. Clutch drum is made from solid aluminium, not cast. Inner drum is made of steel (roadster) or aluminium (racer). The clutch replaces the original one without modification to the case. It can be run wet or dry. 1150 DM, 360 pounds sterling, or 560 US$. Must also add VAT. For information E-Mail: HRD-twins@gmx.de

Andy Everett at 50d Kingswood Road, London E 11 1 SF, England, is now making stainless steel exhaust nuts for the Vincent with Trevor Southwell cutting the threads.

Tracy Tools Ltd., a Mail Order company in Dartmouth, England. Sells Cutters, drills, taps, and dies. They also do
a very good free Catalogue. If anyone wants to contact them the Tel. No. is 01803 833134 - Fax No. is 01803 834588 and finally E Mail :TracyTools@aol.com.

http://www.buchananspokes.com (Buchanan's for wheel rebuilding, rims, and spokes. California, USA)

---
Vincent Repairs in Australia:

Ken Phelps - As a builder and daily rider of Norvins for over 30 years, I have the skill and experience to carry out overhauls, rebuilds, general repairs and maintenance to Vincent HRD motorcycles. Full machine shop facilities enabling complete engine and chassis rebuilds, Painting, wiring, polishing, aluminium welding and wheel building. Ken Phelps Phone: (61+) 0351760809 E-mail: ogrilp400@hotmail.com - Traralgon Victoria - updated April 2013



Terry Prince Classic Motorbikes, 1805 Wollombi Road, St Albans, NSW 2775, Australia. Phone/Fax: (61) 2 4568 2008 New E-mail address 2/4/11: clmotorbikes@esat.net.au (Mfg: complete motors, 5 spds. electric start, heads, barrels, timing gears, cranks, +)
webpage - http://www.classicmotorbikes.com.au/


Overlander Equipment, PO Box 129, Warrnambool 3280, Victoria, Australia ph/fax: (61) 355 626362 email: overlander@ansonic.com.au USA contact: Jim Young (1) 781 826 2625 UK contact: Stuart Towner (44) 181 397 6599
(s/s exhaust, s/s springboxes, k/s levers, suzuki clutch adaptor kits, elephant tr breather


Company that bores and sleeves the body with teflon rather than sleeve the slide. It is the body that wears barrel shaped. In recent years I have had my 1 1/8" monoblocs, and a friends 289's bored, sleeved and overhauled through a well known vintage motorcycle exponent:
Norm Maddock , 49 Mason Heights , RD1 , Warkworth , Auckland , New Zealand Phone: (64+) 9 422 2638 Fax: (64+) 9 422 2639




---
British Tools & Fasteners, 2030 Andre Ave, Los Osos, CA 93402
Ph: 805-528-0418
Fax: 805-528-0358

Bill Jean (757) 488-7191 USA Vincent rebuilds and service work. Is Bill still dong work ???

Dellorto Carb information ( http://www.racecar.co.uk/dellorto/ss1_specifications.htm)

Flywheel/Crank builder -John Renwick at his home address - Rowan House, Keymer Road, Burgess Hill, W.Sussex, England, RH15 0BA.

Coker tire have M/C tires in 3:00-20 and 2:50-21. (www.coker.com)
---

Tachometer Drive Gearbox:
Speedograph Richfield
Rolleston Drive,
Arnold,
Nottingham NG5 7JR
England
www.speedographrichfield.com
Int+44 602 264235

They make a drive unit both clockwise and anti clockwise not exact copy but close and it stays working. Cost 3 years ago approximately £50 when others were looking £90 for it. Speedograph actually manufactures them.
---

Heli-coils:
* Raber's Parts Mart. Bob Raber is good source for all kinds of British stuff, including Heli-coils. San Francisco, Calif. http://www.rabers.com/

* Unithread in the UK. (www.uni-thread.com) Whitworth helicoils, taps, and drills.

* Coventry Spares


Vincent Norvin Belt drive conversions, Clutch Conversions For road or Competition. Contact John Scerri, Lytedrive Melbourne, Australia. Pone: 0061397945612, Fax: 0061395123497.

Precision Racing Components: Vincent show quality restoration services. Contact Brian at (570) 992-3041. USA
---

Dave Lambert, 132 Beaufort St , Derby. DE21 6BB, UK Phone (44+) 1-332-369-047. (dual disc brake kit)
---
5 speed transmissions are available from:
Sports Power Ltd.
Monza House
Fircroft way
Edenbridge KentTN8 6EJ England
Phone 01732 865496 Fax 01732 866945

Mr. Surtees' company. They are made by Quaife and are a beautiful piece of work! Bob Watson 1/27/02
---

Alpha Bearings Ltd
Kingsley St
Dudley
DY2 0PZ
United Kingdom
Telephone +44 1384 255151
---

British hand tools in England: A&R Sheldon. They handle King Dick and Williams perhaps others in a wide variety of sizes and types. Their tel&fax number is 0160-440-0821. They are quick and have a comprehensive catalog. For taps and dies I haven't been able to beat Tracy Tools over there, email tracytools@aol.com or fax 018-03-834588. (website user recommendation)

Vincent Koni shock absorber repair man:
Phone: (44+) 01252 576797
P Drake
57F Mitchet Road
Mitchet
Camberly, England

---
Mallard Metal Packs
53 Jasmin Croft,Kings Heath,Birmingham. B14 5AX
Tel/Fax: (44) 121 624 0302. England.
Mobile : 07815 428295
e.mail : sales@mallardmetals.co.uk
Web address : www.mallardmetals.co.uk
Supplier of all Non-Ferrous and Ferrous metals for restoration projects.in all forms and specifications, No Minimum Quantity..
Now in stock Whitworth hexagons, Stainless Steel bar
World-wide mail order, All major credit cards accepted
---

Whitworth Tools, helicoils, electrplating kits and more...
http://mrcybermall.com/machine_tool_parts/
---

Good selection of Craven luggage equipment and racks: www.classicbikecafe.co.uk/cravenpanniers.asp
---

Cravens Direct Contact info: http://www.cfg-ss.com/Craven_Equip/craven_contact_info.htm
---

Old Amal Carb Spares: surreycycles@fsbdial.co.uk http://www.amalcarburettors.co.uk/ Surrey Cycles; Amal spares. Phone: (44+) 01483 272328
---

Hitchcock's sell lots of new repro Amal gear as well. They are essentially Royal Oilfield specialists and have a top class reputation.

http://www.hitchcocksmotorcycles.com/amal/pre_mono_ht.html?PHPSESSID=355207579a49fd1f3c5e853c7c9dbebb
---

Mark Bohman, home at 513-367-6402.
Chrometric speedo and tach service:
---
---

Motorcycle security company based in the United Kingdom
www.elitesecuritysupplies.com
---

Service and Altette repairs and other matters of electric accessories : magneto rectification, voltage change of dyno, etc
Bob Parry
92 Simmonds Rd., Little Bloxwich
Walsall, WS3 - 3PU
England
Phone: (44+) 01922-475-472.
---

Supplier of German manufactured Vincent cylinder heads, crankshafts, combined dyno/ignition system plus other parts. (new 1/19/06)
www.vinsparesgermany.com
E-mail: info@vinsparesgermany.com
attn. Michael M. Burkert
---
www.burlen.co.uk or www.amalcarburettors.co.uk
The manufacturer of current Amal carburators. (updated 8/15/08) Burlen now sells Amal parts on a retail basis. If you open an account with them on line you can save 5% on the order. You can now use PayPal with Burlen. David 8/15/08

---

New Vincent type replica Crankcases "C" spec, optically the same as standard outside fully updated strenghthend and lightend ( cases weigh 16.50 kilos ) in all the right places. My cases fit ! Photos on request, references from my customers gladly given, money back guarantee, the cases are "Made in England ", cast and machined in UK. 1950 GBP. (as of 7/1/06) contact Harry Cowley on E-mail: vinut@t-online.de
---

New Vincent Seats : Michael Mastis 818-470-1493. California, USA ( Mike was going to suspend operations..8/14/08...Anyone hear from him ??)
---

Brighter Quartz Halogen headlight bulbs for Miller Vincent Headlights: 6V or 12V 35/35W Quartz halogen Bayonet cap headlight bulbs. Direct replacement for the original and a lot brighter. £7.75ea. ($15.00). 6V 10W & 20W quartz halogen pilot bulbs in both 9MM ad 15MM bases. Ideal for a daytime riding light. £4.00 ea ($7.85) Post to US 2/3 days £2.00 ($3.90) website: www.norbsa02.freeuk.com Paul Goff 3/26/06
---

Pazon Electronic Ignition system for Vincent Twins
http://www.pazon.com/ignition-system/smart-fire-vincent-vtwin
---

Magneto Parts and services: http://www.magneto.co.uk/acatalog/Index.html
---

Vincent rims and spokes, also tyres, from Central Wheel Components in Birmingham (www.central-wheel.co.uk)
---

Bob Kizer Magneto website:
http://www.podtronics.net/magnetos.htm

For Podtronics voltage regulators-
which will fit inside a Miller box:
www.podtronics.net

New solid state regulator for 6 volt generator/dynamo British motorcycles.

---

www.taffthehorns.com I am the only guy restoring hooters ( I will have to tell Heidi...) plus making the Lucas Parts which go with Vincents.
---

Stainless Steel intake manifolds for Vincents that allow the use of the later Amal Mk1 Concentrics (932 for example). These carbs are 32mm, and work very well. Manifolds fit in the original space, and are a full 52% larger in flow. I have done all of the R&D for jetting, carb mods, and cable lengths. I have made a small batch of them for sale for $220 for a pair. E-mail: mosher@performanceindian.com
---

New Ikon shock absorbers for Vincent motorcycles. (similiar to the old Koni shocks)

Recommended Service
1064 Revere Ave
San Francisco CA 94124 USA
P: 415 738 9441 (Dave - Call ofter 1pm West Coast time)
E: ikonusa@gmail.com
W: http://www.ikonsuspensionusa.com

---

RK Leighton offer replacement squabs for Vincent seats, along with replacement bases (Complete with all strengthening bars). Phone:
(44+) (0)121 359 0514 or E-mail: info@rk-leighton.co.uk Neil. 1/6/08
---

Vintage Brakes can get you Vincent brake shoes . Phone: USA 209-533-4346.
---

Low temperature alloys for filling and bending gas and oil line tubeing: http://www.mcmaster.com/#metal-alloy-casting-compounds/=1ghxoz 4/12/09
---

Girder Fork guy in the US: Try Randy at Framecrafters in Northern Illinois http://www.framecrafters.net/ 4/16/09
---

Stephen Pate
Restoration Werks
502-442-7659
(new phone 5/24/11)

stephen@restorationwerks.com
http://www.restorationwerks.com

Stephen performs expert total restoration of Vincent motorcycles in-house, from paint to machining. Also restores Vincent gas tanks including metal work, paint, decals, and striping.

---

Source of cables and parts:
http://www.cyclewareables.com/pages/cable_parts/cable_control_parts.htm
---

Brirish Whitworth tools:
http://www.mscjlindustrial.co.uk/BRL-10525L/SEARCH:JL_PART/product.html
---

Chadwick & Trefethen is still in business in Portsmouth New
Hampshire, turning out lovely genuine Critchly Adjustable Reamers, so
there isn't any reason to tolerate imitations. 10/7/09
---

Steib Spare Parts: http://www.ideal-seitenwagen.de/English/Seitenwagen_e.htm

---
speedo repair:

Mark Bohman at 513 367-6402, 10084 Star Spray Road, Harrison, OH 45030 USA
---
Relining Vincent Brake Shoes:
Laycook
259 East Butler Ave.
Memphis, TN 38126
901 523 1418
---
Headlight rim chroming:
Dan's Polishing Shop
145 Duren Industrial Drive
Adamsville, TN 38310
(731) 632 0103
---
MC petrol tank metal repair:
Denny Jamison of Hammer Art
phone: 317 698-0570
Speedway, IN
---

Return to: thevincent.com homepage