1950 Series C Vincent Black Lightning #F10AB/1C/4439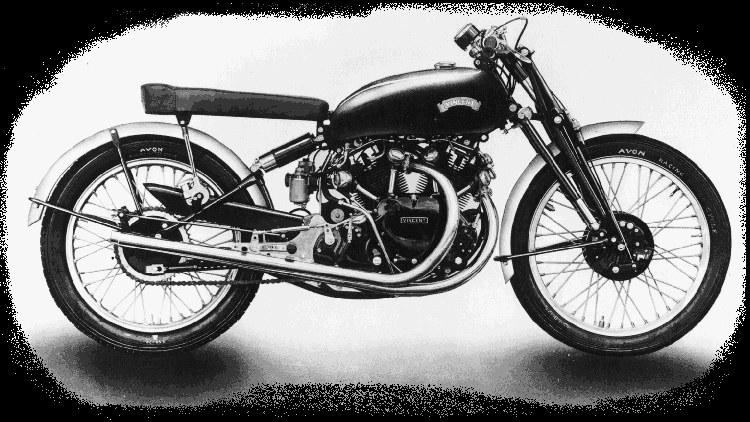 The Vincent HRD Company Ltd. produced the cream of the Vincent crop with the special production of 30 Vincent Black Lightnings during 1949-52. Late in 1950 , #F10AB/1C/4439 factory produced Lightning was completed and scheduled to be delivered to Garreau in Paris, but was held by the factory and subsequently delivered along with sister Lightning #F10AB/1C/7304 to Australian Vincent dealer Sven Kallin in Adelaide, South Australia in September of 1951. After arrival the Lightnings were displayed in Kallin's showroom in a vee-formation as you entered the front door. Late in 1951, Lightning #F10AB/1C/4439 was sold to Australian motorcyclist Bluey Henderson for the sum of £500. The other was sold to Don Willison of speedway sidecar fame.
Bluey, now in his seventies, says he took the bike to Woomera in central South Australia, where he was working on the British/Australian rocket range project. He rode the bike only a few times on the road, finding the gear ratios too high for road use. He ran the Lightning on a fuel mixture of 60% petrol and 40% Benzol. He kept the bike for about two months and Kallins found a buyer in New South Wales for the Lightning.
In 1993, I purchased Black Lightning #F10AB/1C/4439 in Australia and airfreighted it back to the US. Noted Vincent restorer Michael White undertook an extensive restoration on a very good original Vincent Black Lightning over the next three years. The fall of 1996 the restoration was completed with final detailing by Craig Comontofski.. The pictures above are factory promo pictures, below is a "day one " of the Lightning as new. Many details vary from artist conception to actual factory production. To discuss this Lightning and additional Vincents, please E-mail. jim@thevincent.com. Note: Lightning #4439 was reluctantly sold in 1999 to an ex-AHRMA racer who displays it in the Solvang Motorcycle Museum in California.

Engine Number F10AB/1C/4439
Frame Number RC6639
List Price $1500
Frame type - Vincent integral
Suspension , front - Vincent girder fork
Suspension , rear - Vincent special swing arm
Tire size , front - 3.00-21 Avon Racing
Tire size , rear - 3.50-20 Avon Racing
Wheel rim , front - Alloy WM-1 x 21
Wheel rim , rear - Alloy WM-2 x 20
Engine type V-twin 50 degree
Bore & Stroke - 3.31 x 3.54
Ignition - Lucas Racing Magneto KVFTT
Carburetion - 2ea 32mm Amal TT
Oil system - dry sump
Starting system - push
Rear set foot pegs and factory special foot controls
Seating - One, special Feridax Black Lightning
Lighting - none
Instrumentation , speed - Smiths.....MPH
Instrumentation , engine - Smiths.....RPM
Exhaust system - separate open headers


This is an actual photograph of Bluey Henderson at the time of the Lightning F10AB/1C/4439 purchase in 1951. The photo is taken just outside the front door to Sven Kallin's dealership and on the door is a Christmas greeting which is unreadable in this format , but says "We wish you all a Merry Christmas and a happy and properous new year". The photo shows the Vincent Black Lightning with the expected details of no battery, no lights, rear sets, straight thru pipes ( and these are parallel to the ground, exiting at the bottom of the rear sprocket), alloy rims, trimmed front fender, the usual placement of the tachometer for a Lightning, trimmed chain guard, and nice period clothes on Bluey. Note the unsual routing of the rear plug wire and the fact that it is most likely a light colored, fabric covered spark plug wiring of the period. The look of the seat confirms the use of the Faridax model seat as opposed to the more flat model seats seen on more recent restorations. The shift lever is a simple reversal rather than a more complex rearset linkage and there are both sets of fender braces used at the rear with the fender length easily noted. The asymmetrical mounting of the speedometer on a Rapide bracket is a nice exclusive touch for this particular machine! How many other Vincent Black Lightnings can show "day one" photo documentation of the bike as it came "new" with their original owner? I would guess none! Can you imagine the rarity of this photo and this Lightning? 50 years!
Comparision drawing of a Black Shadow
---
Black Lightnings
Complete Machines
By John Marshall, updated by Jim Baltusnik and Craig Comontofski
Engine Number
Frame
Number
Delivered to
Date
Notes
F10AB/1B/900
R2890B
John Edgar
15.7.48
Rollie Free "Bathing Suit bike"
F10AB/1C/1320
RC3310
Cimic, Buenos Aires, Argentina
17.1.49
Earl's Court '48 Show Model - Black enameled fenders
F10AB/1C/1648
RC3548
Heironymi, Zurich, Switzerland
24.1.49
Bramptons, short rfm, "B"
F10AB/1C/1803
RC3903
Elder Smith, Sydney, Australia
18.3.49
Bramptons, short rfm, "B"
F10AB/1C/1980
RC3880
Trivellato, Brazil
28.3.49
F10AB/1C/2283
RC4183
Nathan Smith, Durban, South Africa
13.6.49
F10AB/1C/2284
RC4184
Vic Proctor, South Africa
13.6.49
F10AB/1C/2285
RC4185
Elder Smith,Adelaide, Australia
18.7.49
F10AB/1C/2535
RC4435
V.L.Martin, California, USA
27.10.49
F10AB/1C/2536
RC4436
Kings, Manchester (for Reg Dearden)
27.10.49
Blower fitted 10.7.50
F10AB/1C/2537
RC4437
Van Rooyen, Rhodesia
20.7.49
F10AB/1C/2747
RC4647
Elder Smith, Sydney, Australia
2.9.49
F10AB/1C/2748
RC4648
Stan Marks, Manchester
12.10.49
Road trim
F10AB/1C/2749
RC4649
Indian Sales Corp, Springfield, USA
15.11.49
Show model
F10AB/1C/2752
RC4652
C.H.P.M. Motobyt, Poland (No.1)
29.11.49
for sidecar racing
F10AB/1C/3230
RC5130
C.H.P.M. Motobyt, Poland (No.2)
8.12.49
for sidecar racing
F10AB/1C/3641
RC5541
Villy Egen, Denmark
20.3.50
F10AB/1C/3642
RC5542
Villy Egen, Denmark
27.3.50
F10AB/1C/3686
RC5586
Elder Smith, Sydney, Australia
16.5.50
F10AB/1C/3687
RC5587
Malte Bohm, Sweden
26.6.50
F10AB/1C/3688
RC5588
Rollie Free, USA
5.8.50
6,400rpm in third, 141mph
F10AB/1C/3689
RC5589
Indian Sales Corp, Springfield, USA
3.9.50
Fitted with lights
F10AB/1C/4437
RC6337
Lohmann & Louis, Germany
26.9.50
F10AB/1C/4439
RC6339
Sven Kallin, Adelaide, Australia
4.9.51
Built for Garreau, Paris 27.10.50
F10AB/1C/7304
RC9204
Sven Kallin, Adelaide, Australia
4.9.51
F10AB/1C/7305
RC9205
W.A.McAlpine, London
25.7.51
Raced by Jack Ehret in Australia
F10AB/1C/8245
RC10145
Eastern Auto, Singapore
26.6.52
F10AB/1C/8246
RC10146
Humphreys, London
15.12.50
F10AB/1C/9469
RC11369
Eastern Auto, Singapore
26.6.52
F10AB/1C/9818
RC11718
Eastern Auto, Singapore
20.12.52
Shown at Earl's Court, purchased 1956
This list totals 30 machines with a possible additional Lightnings listed below.
The list above now contains the Rollie Free "Bathing Suit "bike, which was the prototype Lightning.
Additional possible Black Lightnings that require verification/documentation are listed below:

Frame
Number
Delivered to
Date
Notes
F10AB/1C/1488
John Surtees bike. Currently in Italy- Collezione Motociclistica Milanese
F10AB/1C/10096
RC11996C
Sir Kegian Cycles, Los Angeles, Ca
00.00.55
Drag race bike
F10AB/2C/10160
RC12310
no notes on this one to date, need
input from owners
F10AB/1C/xxxxx
RCxxxxxx
D engine in a C frame?
F10AB/1C/10335
RCxxxxx
Burns and Wright Lightning ?
F10AB/2C/10610
RC10251
F10AB/1C/11136
F10AB/1C/11137 Currently has Brampton's and Sharrock Blower
F10AB/1C/11138
Note: The famous race bike Gunga Din, F10AB/1A/71, was the first Vincent with Mark 2 (Lightning) cams.
To complete any additions to the above list, please e-mail jim@thevincent.com We are also looking for Grey Flash, Red Comet, and Red Rapide listings or information that would be helpful to prospective owners or owners restoring a bike.

---
Vibrac rods: They are lighter and appear somewhat slimmer, and unlike Shadow rods which are polished only over the out side beams, they are Totally polished over All possible surfaces. The inner fillets / webs too, and end to end. All carry a very small v stamped into the web area , lightly done - one has to look closely for it . The steel used in Vibacs is definitly far harder than that of a Shadow rod. I tried long and hard to polish out a small nick in one - didn't help a bit. Sid 5/28/09
---
Something About Lightnings by Bill Easter 6/28/00
As some of you might know, I had an interest in determining this quantity some years ago since I heard so many different stories about them, either 14 or 28. Note that I said Lightning motorcycles originally made by the Vincent factory and not just special engines or special motorcycles or twins with "C" in the serial number.

I thought that it would be interesting to explore the Lightnings on his list that are not on John Marshall's list of 30 Black Lightnings that appeared in MPH 421, Feb., 1984 and see what comments I get from Dave Hills, Gordon Powell and others. For a complete list, you must see that MPH and note that the Engine number of the last one listed should be
/2C/10610 instead of /2C/10160 (most likely a typo).

I believe that 1B/900 was considered the first "Rapide, Black Lightning" by the factory per some articles and posters that were published and information from Phil Irving. 1A/4438 (or 1C) was a White Lightning (or Black Lightning) and one of a series of three Lightnings, 4437, 4438 and 4439. The factory record for this bike shows both "1A" and "1C" and "Black" and "White." A majority, 22, of Lightnings were produced in batches of three (12), two (6) and four (4). 1C/10096 was a drag bike of
which John Hanson now has the engine and UFM. 1C/10393 was the Burns and Wright streamliner. 1C/10552 was the Len Hardy bike. 2C/10696 was a dismantled Lightning that had the engine stolen from a pickup truck at a race in New York. The cycle parts are in New Jersey and part of the engine is in Jeff Gilbert's Lightning. A photograph of this bike is shown in Sid's book. All this per reliable sources and MPH. There may be a third Lightning, Series 'C' with a Series 'D' engine (/2C/ S/N),
considering that there seemed be three of each model - Rapide, Black Shadow, Comet - built during the Series 'D' period (beginning with Eng. No. 10588) and only two are accounted for here. This is something to ponder.

---
21" Lightning Front Rim: This size came Works fitted on the all Black Lightnings, and it's brand was proudly Borrani " RECORD " the choice of every Race team of any note. Seems that the butting seam was more difficult to produce with any high degree of flawless production, most showing a lumpy joining. Only the best ones were selected for Racing and given the RECORD stamp. Most Senior Class pukka racers carried this size for it's greater stability at the higher top speeds this cylinder capacity was able to acheve, this due to its greater gyroscopic effect. Later, as speeds rose beyond 140-150 mph it became clear that the effect hindered quick response due to the greater effort it took to alter the wheel direction. Straight-away record machines still employ the size where suitable tires are available. Sid Biberman 12/14/00

---
Lightning Buying Notes:A strong word of caution to anyone considering buying a Lightning. I spent over 3 years looking at them before buying one and found MOST Lightnings readily available are imposters, restamps, duplicates, falsifications, replicas, etc.. The really good ones are in museums or very private collections.

Steps to Lightning Ownership.
1. A complete, original Lightning is very expensive...plan accordingly.
2. Forget about buying one anytime soon. It takes at least a year to gather an information base large and deep enough to understand what Vincent afficianados will tell you about Lightnings. Experience counts.
3. Join the VOC.
4. Buy and study the Vincent books, attend the events, take pictures (gleeful memories are no substitute for 4x6 glossy sharp close-ups), talk to as many current/past Lightning owners as possible, refer to your treasured copy of the Black Lightning Special Parts List , and study alternative security systems. Once you have located the current object of your passion, pull your copy of Denis Minett's Notebook from under your pillow and see if the bike is listed. If not, start over. If it is listed (as I found many fakes are..), contact Gordon Powell (Machine Registrar for the VOC) to determine how many there are with that same number. There should be only one.
5. If you think you have located a genuine Lightning, plan on asking an experienced VOC member to look at the bike with you.
6. You know the rest. jim

---
Lightning Historical Information
Letter from Phil Vincent to Rollie Free
Lightning Trivia
The John Edgar/Rollie Free "Bathing Suit"Lightning
---
Open request for detail help on Vincent Black Lightning motorcycles:
1. I would like help on period photos of new Lightnings, similiar to above. Does anyone one have such photo documentation on their Lightnings? Or are there archive photos available?
The purpose would be to view several installations of :
Oil vent routing (note routing on above factory drawings)
Sparkplug wire material and routing
Seat options
Exhaust pipe options (many original Lightnings had special very thin exhaust pipes)
Rear sprocket use on left side
Magneto vent tubing material and routing
Front brake cable material color
Use of rubber or metal "wire ties" (John Bull or ?)
Chain size options
Paper tags or stickers
2. I would like to know about paper tagging or stickers that would have been on a Vincent motorcycle the day it was new! Did they have a set of break-in instructions on a paper tag under the gas cap? or tag indicating use of fuel (benzene/petrol)? paper tags on Lucas items? stickers on instrumentation? stickers on the rims indicating brand name? Stickers on shocks, cables, oil lines, fenders, wheel weights, chokes, advance, throttle, levers, carbs, magneto, or other parts I haven't thought of ?

---

Interesting page on Black Lightnings in Australia by Franc Trento: http://www.eurobrit.com.au/pages/default.cfm?page_id=11709

---

Thanks for your help in these matters:
jim@thevincent.com


Additional Lightning info or suggestions to improve this page are welcomed!

---
BACK TO: Home Page of
thevincent.com