thevincent.com
Special Webpage ( updated 9/27/13 )

The Story of Norvin Racing Engine F10AB/1/3270
(currently owned by Vincent enthusiast Michael Rosseau)

---
In street disguise.... with Arthur piloting his Norvin in 1970.
---
The Heart of it all.

---
The Story: Apparently Mr. John David Peart of West Harrow, England was an engineer working in the aircraft industry and originally had this Vincent Twin engine in a standard Rapide frame. About 1968, he removed the 600cc engine from his 1956 Model 99 600cc Norton featherbed and installed this engine. We are hoping to find someone who has knowledge of Mr. Peart, his Norvin or this engine. The Norvin may have been raced in Twisty Sprints from 1968 - 1970 and did have the UK registration of XKK 383. The Norvin was purchased in 1970 by a US Serviceman who briefly rode it. He reports " One night very late in North London I was working with a fellow shipmate in his garage on his Triumph and my Norvin. When his wife finally demanded we stop and he come to bed I left for home via the motorway. I decided to punch it out since the road was deserted. I was almost through the gears when I saw the speedo was maxed and I felt that was really enough. No telling what it would have done if I had been brave and crazy enough." Since he was being transferred Stateside, he removed the engine from the Model 99 Norton frame (excellent decision) and shipped it to Southeastern USA where it has slept in a garage for the last 38 years. The competent Serviceman (Arthur) who brought it to the USA carefully turned it over every month and kept it well oiled. His beautiful wife Sandy referred to it as "their baby".. and I am happily obligated to keep in touch with further developments.

The original Rapide was built May 5, 1950 and sent to Conway's Motors registered as LPG 201. In 1955 the owner was AH Lovesay of London and in 1962 the owner was JL Edwards of Harrow. We have no information from 1962 to 1968 and on why the engine was removed from the Rapide and installed in the Norton.

This engine will be shown at USA VOC events as-is the summer of 2008 until a decision is made as whether to complete an extensive restoration of the engine to original factory condition or to preserve it's current configuration as an interesting period example of a highly modified racing Vincent engine.
Partial List of Modifications:
* Both camshafts are supported on both ends by bushings in the crankcase wall and in the timing cover.
* Comet style timing cover has been modified for oil flow, bushings and a viewing port to examine the timing marks of the large idler and the front camshaft pinion.
* Quick release/access ATD cover. (For use in conjunction with the cam timing viewing port ?)
* Generator and drive loop removed and 4-wire Wipac alternator installed under modified primary cover.
* Norton multiplate clutch running in oil bath.
* Dual Royal Enfield decompressors.
* Flange mount Amal 389 carburators modifed to clip mount with (3) 120 degree screws for location.
( Intake ports on both heads appear unmodified 1.125" )
* Vent tube installed in front of transmission oil filler cap.
* Modified 5-flat pushrod tube nuts.
* Safety plate over top of camplate spindle.
* Left rear crankcase mount for swingarm machined off.
* Alloy Idler has steel toothed ring shrunk onto perimeter.
* Steel idler plate. Actually looks like brown paint, not rust. Scrapes off. Crankcase timing chest painted black on the inside.
* Primary chain adjuster has been replaced by one of the builders own design.
* Black Lightning cams, drilled cam pinions and lightened pushrods. Flywheels appear to be polished.
* Modified head studs.
* Horizontally split K/S cover with relieved area for oil lines.
Engine 3270 as installed in Norvin XKK 383 about 1969. Note unusual bottom link front forks, possibly inspired by experimental Manx racers of that era. A unique Norvin one would remember.

















The engine has not been opened to determine further modifications to the heads/ transmission/etc.. Engine internals are reportedly to "Black Lightning Specs".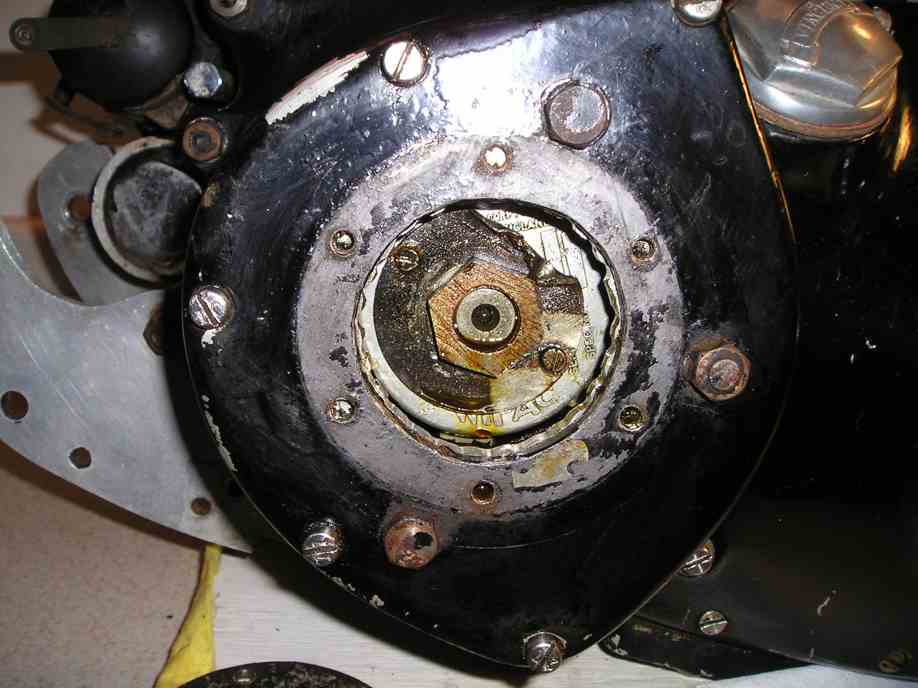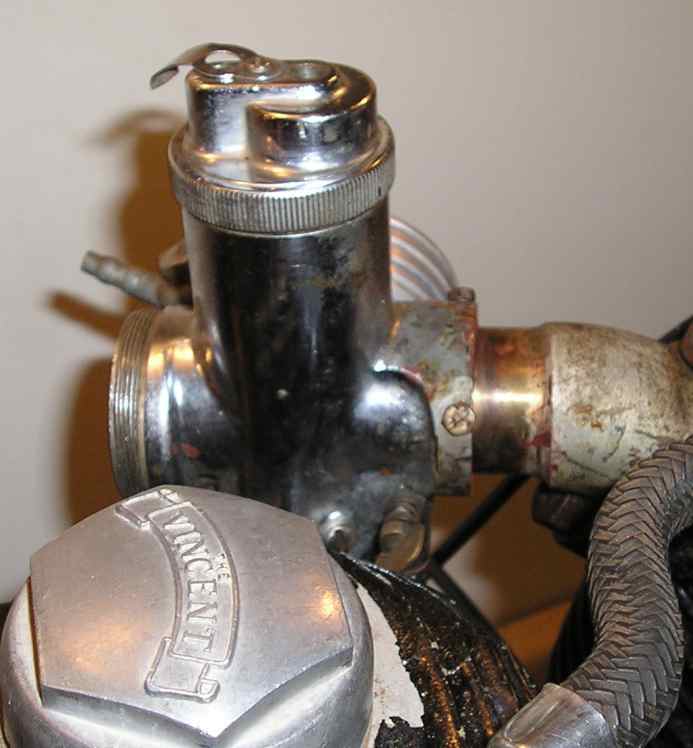 In any event, I will be looking for a stock primary cover, timing cover and an engineless Vincent or Egli as a home for this unique engine. The engine should be rebuilt by a Professional prior to running.... regardless of whether stock or modified. I can only think of one highly skilled machinist who has the gifts take on this mission to save a historic engine. Unfortunately this cranky retired machinist has repeatedly told me to stop calling and to go away.
Was the 1968 designer, machinist and racer all the same person or three different people ? So many mysteries... Some of the above information has been provided by the ever helpful VOC Machine Researcher Vince Farrell, the VOC Norvin Section and the VOC Racing Section Organizers. If you have any further information about this Norvin, engine 3270 or John Peart, please contact jim@thevincent.com. The story of this Vincent engine is still being written.
Thanks again..... for your support of this website.
---
Recent letters about this engine:
---
Hi Jim, The Peart Featherbed Norvin was a pretty well known machine within the UK club in the early 60's as was his enclosed Series "D" (never says if its Knight or Prince), reference MPH 167 Dec 62, page 8 , The Motorcycle Show. Para 3 mentions John Peart's motorcycle entry. Page 22 shows his "D", RLX127. Next is MPH 175, Aug 63, Pages 10 & 11 list all of the modifications done to Pearts "D" and comments on them. Finally, MPH 179, Dec 63, shows the Peart Norvin that is our subject and makes some comments as to modifications it had but states it was not the motor out of his "D". That's all for now, don't know what happened to Peart himself. Mike Vedas 1/29/09
---
Was looking at the info for your funny engine, and can say regarding the frame that it's Not a Manx because 1) it has a regular fairly early featherbed swingarm, and 2) it has the center stand mounted on the two lower rear frame bosses (originally meant for sidecar mounts). I know all this because it's just like the frame of my Norvin, which has the center stand mounted the same place for the same reasons. David Stein
---
I think it is a Manx frame. I don't have one to compare, but the singles (Manx and ES2) had a much slower curve at the rear of the main frame. Someone who would know if those were works forks is a Mr John Surtees........ They might however be home made, with the plates allowing quick changes to geometry, or allowing the geometry to be sorted out. Whoever built it must have known his stuff - except for the ally idler, which I'd junk.
(Formula III car racers used 500 cc single cylinder motors. Norton was the motor of choice, but Norton wouldn't sell an engine only. So lots of Manx's were bought, the motor and gearbox put in a car, and the cycle parts disposed of cheaply. When I was in my twenties, in a not particularly wealthy area, Manx Tritons were commonplace. ) Tom Gaynor
---
I can offer this advice, dusbin the large idler before disaster - what happens is the alloy centre section expands at a greater rate than the steel of the outer teeth around it (laws of physics at play here), gradually force compressing the alloy inner section, until one day when the engine gets much warmer than usual - or eventually over time, or you give it a big hand full, the outer teeth section falls off the inner "roundy bit" section into the timing chest - with ensuing wallet emptying consequences. Don't ask me how I know!!! Phil Davies
---
I got someone to machine one up (how to ruin two perfectly good idlers in one go!!), as far as I know all "other" two piece idlers were custom made as well (don't know in what sort of quantity though).

The original bike - those forks look like something that Norton had on some of their Manx racers at one time (and the swing arm looks spindly enough to be a Manx item as well) so maybe it was a Manx framed NorVin (after all why put a Vin in a "heavy" stock Norton chassis) - especially when "the vogue" was for fast engines into the frames of all the slow ex-racing Manxes available at the time.
Phil Davies

---

Return to: Home page of thevincent.com