thevincent.com : special report

---

Project Irving-Vincent
---
Photo of starter motor and alternator
---
Ken Horner started in early 1999 with an idea to build a Vincent engine for personal use which has managed to grow legs into a major project.
Ken Horner has set a goal to not only replicate the Vincent engine but to bring it into the 21st century with unique design and manufacturing techniques. Taking on board the input of many enthusiasts and industry associates has helped to steer the project along an interesting and challenging development curve which is now showing some impressive results.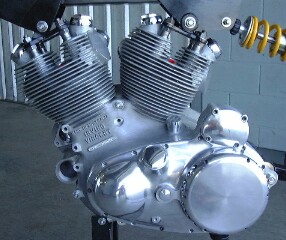 When reflecting upon fond memories from the 1970's when a Vincent power plant was used to propel a racing sidecar a new interest was spawned in a classic piece of motorcycling history and the urge to do it all again.
Acquiring the right equipment for the job was to be a major challenge with only some components of suitable quality and adaptability known to be readily available. This inspired further research into major component availability and ultimately a visit in July 1999 to the UK by Ken, to inspect reproduced crankcases which were of high quality but still to the original basic design. Having a price tag of £2500, equivalent to approx $10000 Australian landed with freight, duties and taxes, and no flexibility on design was a hurdle too great to overcome. Quite simply it was a better prospect to spend that sort of money on patterns and tooling to produce exactly what was required allowing the incorporation of modern day improvements along the way while maintaining full project control.
Learning of an Australian consortium, consisting of Terry Prince, Neal Videan, and Rodney Brown, who were about to produce and release top end kits consisting of cylinder heads and barrels, the idea of producing crankcases was getting some merit.
Another trip in late October to investigate component quality, this time to see Terry Prince in New South Wales, was made to meet with strong support for the project now being formulated and it was then decided to push on with the crankcase and bottom end manufacturing to compliment the TPV top end kits.
Already being a manufacturer of industrial equipment, having highly skilled engineering staff and high tech machinery, it was easy for KHE to fit in with existing equipment and associated support industries. Six months of CAD work by Ken Horner, all completed outside normal working hours, saw the first crankcase drawings and the patternmakers introduced to the project.
It is now two years later and they have completed crankcases, side covers and numerous other piece components. Utilising the TPV top end kits they now have the external engine and gearbox work finished and components almost completed.
This project will now ultimately produce complete running engines available to the general market which was initially perceived as a petite domestic market that has now full commercial opportunities on the international stage. There will be various stages of release with original crankcases initially and later an electric starter alternator version.
Two engine versions will become available as the project progresses in the form of bottom end groups fitted with TPV top end kits or complete works assemblies utilising new high performance cylinder heads designed and manufactured by KHE which are at the patternmakers right now.
All this has been achieved with the love of a project that hopefully rekindles the memories of many. Irving Vincent is a registered trade name of KHE which has taken on this project without outside shareholders or investors. The company's primary manufacturing business comes first with its own commercial rewards before any private project work gets a look in. However, project Irving Vincent which started as an idle thought is swiftly turning into a viable business opportunity and as such is quickly gaining more priority within the organisation.
---

Ken Horner Engineering Pty.Ltd.
E-mail address: khequipment@msn.com.au
Phone : (Int.) 61.3.97964588. Fax (Last digits - 4878)

---
return to: thevincent.com home page