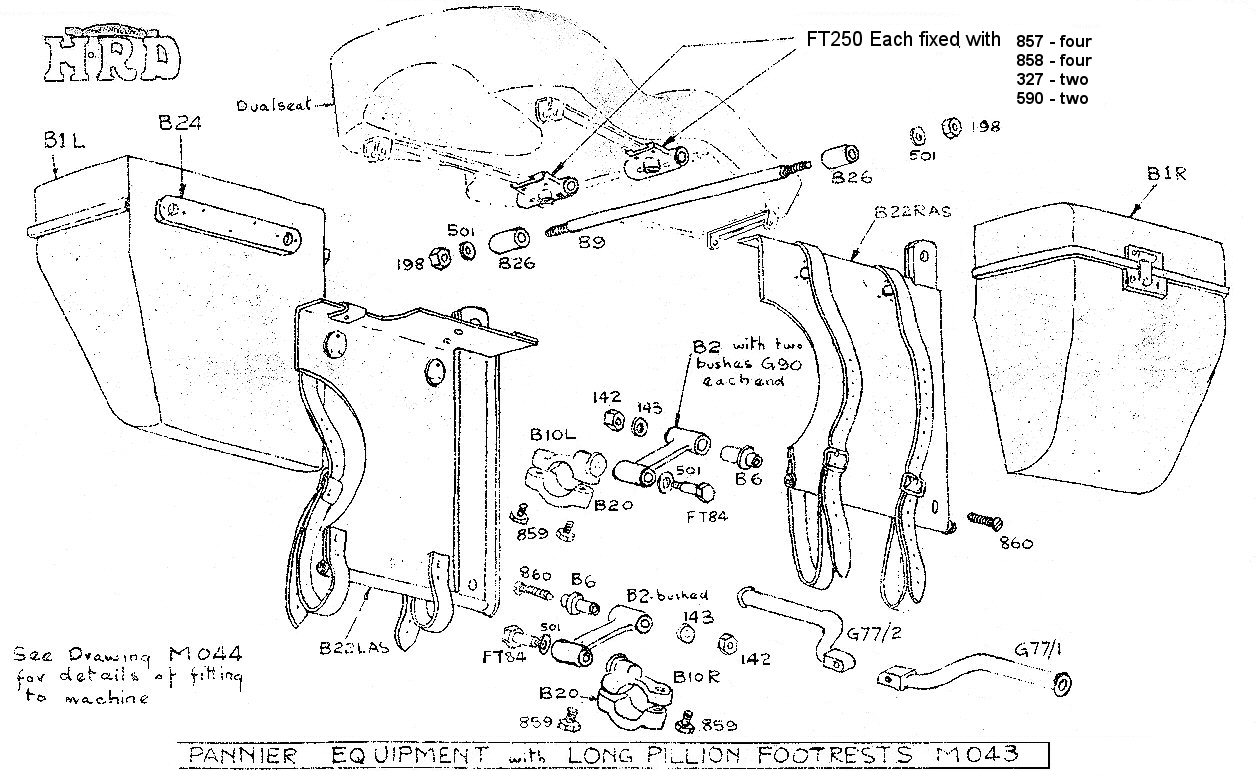 ---
MPH issues for Vincent Luggage Equipment

Articles

by EMG Stevens & FJ Griffin - Numbers 533 to 538. - June to November 1993.

---
The early Vincent luggage equipment consisted of two handed black cases and frames. Two drawings, M043 and M044, and a list of the parts appeared in early issues of the Spares List. The cases are wrongly drawn on M043; the rear and front are reversed, the slope should be at the front (however the cases seem to fit the sheet metal brackets more correctly as shown). Not sure about this "not correct as shown" observation. Covered with black leather and lined inside with "leather cloth", the stiff cases are not out of place in a four star hotel. The finish is of high quality throughout and so are the fittings, which include chromium plated solid brass locks, retractable leather handles and an aluminum drainage channle under the lid. The cases are hooked to pegs riveted to the frames;they are secured by two leather straps, but the pegs carry all the weight. The frames are made of embossed light alloy sheet, 14swg, reinforced at the forward end by a 3/8" alloy strip and stiffened at the bottom by a 1/4" diameter steel rod. The top straps are riveted to the top edge of the frame, which has a cutaway to clear the seat stay; the bottom straps are rivited to the back of the frame. Each frame is suspended at its front by a 1/2" bolt which passes thru and can rotate on two bronze bushed brackets, each secured underneath the seat behind the tool tray by eight woodscrews and one 1/4" BSF bolt. A pivot is bolted at the bottom of the 3/8" strip reinforcing the front of the frame. A similar pivot is screwed to a bronze bracket clamped to the RFM lower tube. A bronze link, 3½" between centers, fitted with oilite bushes, connects the ½" pivot on the pannier frame to the pivot clamped the the RFM. All the weight is carried by the top bolt; the link at the bottom of the frame merely controls the swinging motion of the assembly.

---


Craven panniers
Phil Primmer panniers and rack that were designed principally for Vincents
Rodark Panniers

For CRAVEN parts:
Ken Craven died some time ago. Here iswhat happened, to the best of my knowledge:
First; things went to: sales@cfgsiteservices.co.uk
You could have found them unresponsive, and you might have found a website for Craven stuff, and found it also
unresponsive. Nash Morgan; Lightmoor Works, Speech House Road, Cinderford,
Glos., GL14 3HU England Tel. +44-1594-827649 was the contact. All Craven items were next sold to
Phil Primmer: http://www.westcountrysidecars.co.uk


On 01/13/2009, I received the following information, which I have edited for clarity....so these are not Roger's exact words.

We acquired the Craven Equipment business from Phil Primmer of West Country Sidecars who retired. It is taking us some time to sort out all the drawings, moulds and tooling but we hope to be in a position to start production late in 2009. We will start by making the more popular top boxes, panniers, racks and fittings and hope to eventually have most of the Craven range in stock. We will supply individual parts to repair or complete old sets of luggage and carriers but in the meantime we are not able to help with any spares as there was very little stock. We also will be producing Phil Primmer's own panniers and rack that were designed principally for Vincents and we hope to finish of the moulds he was making in order to produce Rodark Panniers. We welcome enquiries in the meantime. At the moment we do not even have any permanent premises and the preferred method of contact is by email contact@CravenS.org.uk
Roger Gwynne
sales@draganfly.co.uk


Craven Equipment
Long Beren, Upper Oakley, DISS, IP21 4AX
Strictly no callers, mail order only.
Telephones (01986) 894 798 or 892 826 Facsimile (01986) 894 799

contact@CravenS.org.uk www.CravenS.org.uk